The Hidden Secret Features of Discord: If I'm right, you must be a Discord user, so you came here to this blog article. If you have been using Discord for a long time then you might know some hidden secret features of Discord. In this post, I'm gonna write about all the hidden remote features of Discord and let's see if you know about these all hidden secrets or not. From the basics, let's go from the introduction part of "discord".
About Discord
Discord is a digital distribution and an American messaging platform for creating communities. In Discord, users can communicate and interact with each other. In Discord, users can communicate and interact through voice calls, video calls, text messages, media, and files. You can have private chat as well as public chat on Discord.
Discord is where you can make a home for your communities and friends. Where you can stay close and have fun over text, voice, and video chat. Whether you're part of a school club, a gaming group, a worldwide art community, or just a handful of friends who want to spend time together, Discord makes it easy to talk every day and hang out more often.
CREATE AN INVITE-ONLY PLACE
• Discord servers are organized into topic-based channels where you can collaborate, share, have meetings, or just talk to friends about your day without clogging up a group chat.
• Send a message directly to a friend or call them up with our voice chat feature
• Voice channels make hanging out easy. Got a free moment? Grab a seat in a voice channel so friends can see you're around and pop in to talk without having to call. You can even watch videos together!
• Reliable tech for staying close to friends. Low-latency voice and video chat feel like you're meeting in the same room.
• Easily talk with friends while gaming and steamrolling the competition.
• Be a meme messenger with easy image sharing
STAY CLOSE WITH TEXT, VIDEO, AND VOICE CHAT
• Wave hello over video, watch friends stream their games, share stories over voice calls, or gather up and have a drawing session with screen share.
• Snap a photo and turn it into your own custom emojis and share them with friends.
• Share anything from funny videos and stories to your latest group photos, and pin your favorites to remember those moments later.
• Hang out in group channels or talk privately with direct messages
• Zoom through convos with friends using topic-specific channels!
FOR A FEW OR A FANDOM
• Custom moderation tools and permission levels can group up your friends or teams, organize meetings for your local book club, or bring together music fans from around the world.
• Create moderators, give special members access to private channels, and much more.
Now let me figure out all the hidden secret features and the easter egg of Discord below:
Easter Eggs
DISCORDIA
At first, don't be confused after seeing the word "DISCORDIA". It is a word pronounced by the discord application after opening it. You have to enable this pronouncing hidden feature. To enable this feature you have to click on the logo on the right top discord icon. If you tap on that icon 15 times then your feature will be activated and whenever you open Discord you will listen to the sound as "DISCORDIA". To disable this feature again tap 15 times on the discord icon and it will be disabled.
Keyboard Combos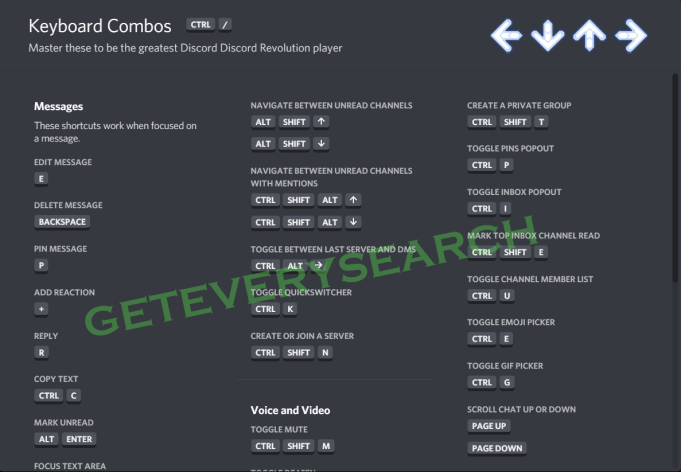 Here, Keyboard combs are present. These are not hidden secret features of Discord but are shortcut keys for Discord commands. You can see these commands by simply pressing "Ctrl + /" on a Windows computer or "Cmd + /" on Mac. After pressing this command you can see the pop-up image of all shortcut commands and use those commands according to requirement. The pop-up window how actually what it looks like, let's see in the picture below. Also, you can use the arrow keys. Isn't it amazing?
Click To Copy Your Username
Another secret feature of Discord is that you can easily copy your username by simply clicking on your name. Doing this will automatically copy your username as well as your #id of Discord. Using this feature saves you time. To share your username and id it makes it easy, you have to just click on the name and share.
Wumpus On Screen
Another hidden secret feature of Discord is Wumpus on Screen. After you hover your mouse pointer over the server-boosted message icon continuously then you can see a beautiful effect on the screen that is Wumpus. Pointing a single time it shows as throwing flowers, but not flowers. Continuously pointing multiple times will show the amazing effect. The flower-like papers and Wumpus appears on the screen and look great to watch.
Automatic Mention (For Mobile Version Only)
Another hidden secret feature of Discord is that while you are chatting with someone or chatting in a group you need to mention someone then you can simply tap on the name of that user whom you want to mention. Simply tapping on the name will automatically insert the name of that user in the message box. This only happens only on the mobile discord application. You don't need to write his/her name by typing '@name…' just simply tap on the name and the user will be automatically mentioned.
Select Multiple Emojis
Whenever you try to send emojis, you have to select one emoji then the emoji box disappears. When you have to send multiple emojis at once then it becomes tiresome to choose one emoji and another. So, you can press and hold the "shift" button and then select multiple emojis at once. This was also one of the hidden secret features of Discord.
So these are the hidden secret features of Discord you should know. Also, check out the Free Photo Editing Softwares.
Hope you liked it. Thanks for visiting Discord Hidden Secrets on geteverysearch.